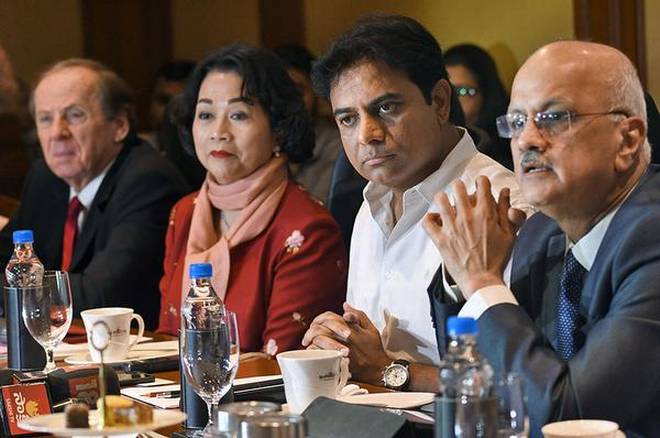 WCIT and Nasscom India Leadership Forum to be hosted here
The Telangana government and the National Association of Software and Services Companies are in discussion for establishing a Centre of Excellence on Artificial Intelligence and Data Sciences in the State.
The facility would create awareness on the emerging technologies, help start-ups and map capabilities in the areas as well as prescribe standards in their use. "We are in discussion with the State," Nasscom president R. Chandrashekhar said, adding that the CoE would be in tune with the State government's focus on AI and data sciences.
Along with Telangana IT and Industries Minister K.T. Rama Rao, he was addressing the media on the upcoming World Congress on Information Technology and Nasscom India Leadership Forum-2018.
Nasscom, with which the Karnataka government had set up such a CoE in Bengaluru, proposes to have a few such facilities to aid in absorption of the technologies in different domains such as financial sector, healthcare, agriculture and manufacturing across the country. The CoE would build a repository of capabilities in the field.
"This is like Olympics of IT," he said describing the WCIT to be held in India for the first time. The leadership forum is also being held in Hyderabad for the first time. The three-day event begins on February 19. Nasscom has invited Prime Minister Narendra Modi to inaugurate. Mr. Rama Rao said thought leaders and those from the industry and government would be participating in the event comprising 22 power-packed sessions and 24 different forums. For Hyderabad, the WCIT comes close on the heels of the Global Entrepreneurship Summit that it hosted, in which Mr. Modi and U.S. President's Advisor Ivanka Trump participated.
"Hyderabad will get visibility across the world once more," the Minister said. Major announcements could be expected from the State government in the context of its discussions with Nasscom and the focus being on AI, robotics and cyber security, he said.
Discussions on AI, blockchain, experience age, innovation, future of work, sports and technology, policy dialogues, new tech deep dives, CIO sessions and boardroom CEO sessions would form part of the event.
Citizen robot
Among the participants would be Sophia, the first citizen robot. Leading names from the industry scheduled to attend the WCIT are Honeywell Chairman David M. Cote, CEO of Adobe Shantanu Narayen, Coursera founder Andrew Ng and founder and CEO of InMobi Naveen Tiwari. Figuring in the list of speakers are Sadhguru of Isha Foundation and Soumitra Dutta, dean, Cornell SC Johnson School of Business. Over 2,500 delegates are expected at WCIT-NILF-2018, with nearly 500 of them from over 30 countries.
Secretary General of World Information Technology and Services Alliance James H. Poisant said from being a biennial conference, WCIT since 2017 has been converted into an annual event in the backdrop of the rapid changes in the technology space.
source: http://www.thehindu.com / The Hindu / Home> News> Cities> Hyderabad / by Special Correspondent / Hyderabad – January 12th, 2018