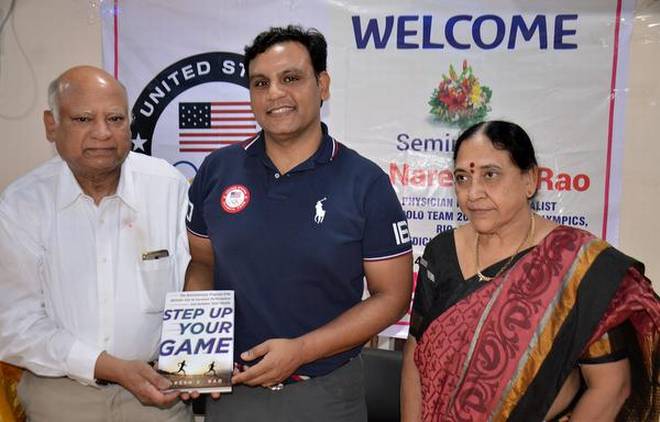 Naresh is a sports medicine doctor whose clients included Olympic and professional athletes
Not many might be aware of a Hyderabadi connection to the U.S. water polo women's team winning gold medal at the Olympics. Well, Naresh C. Rao, born to Govind Rao and Jyothi Rao from the city, was the head physician of the U.S. team in the 2016 Rio edition.
For someone based in New York and having been a water polo player, Dr. Naresh qualified for the job by the virtue of being a sports medicine doctor, whose clients included Olympic and professional athletes over the years.
"It was a huge honour. I always longed to be at the Olympics as a player. But I am glad that at least I made it as a support staff member of a gold-medal winning team. It was a complete team effort which I cherish forever," said Dr. Naresh, whose father was a renowned paediatrician in the city's Niloufer Hospital and was also involved in many philanthropic activities, especially on the medical front here, before moving to the U.S.
"The U.S. players' eyes turned red and there were rashes when they were training in the green water in the pool in Rio. I immediately took up the issue with the IOC and the Rio Olympics Organising Committee. And the response was amazing. They drained out the pool completely and ensured fresh and clean water. I made it clear that it was not a case affecting just the U.S. squad, but all those taking part in water polo," he reminded.
"The biggest challenge for me in Rio was to ensure that the players did not take any medicine, even for normal cough and cold, which would have merited a ban for drug abuse under different guidelines. So my job meant a lot of lecturing and motivational classes too," said the sports science expert willing to give back to his home State – Telangana.
Dr. Naresh interacted with the students of Telangana State Sports School at Hakimpet on Sunday morning and stressed on how one could be a champion through natural performance-enhancing techniques without resorting to drug abuse.
"My book Step Up Your Game deals with this subject in detail and it has been acknowledged by many for emphasising the 'entourage' approach to training. It helps athletes get ready for the starting line," he said. "The book has all the practical tools for all levels, from a beginner to the Olympian," he added.
What next? Dr. Naresh has been asked to be with the U.S. teams for the 2020 Tokyo Olympics as well. "I am honoured with the offer, but will take a call soon in this regard," he signed off.
source: http://www.thehindu.com / The Hindu / Home> National> Telangana / by V.V. Subrahmanyam / Hyderabad – December 25th, 2017