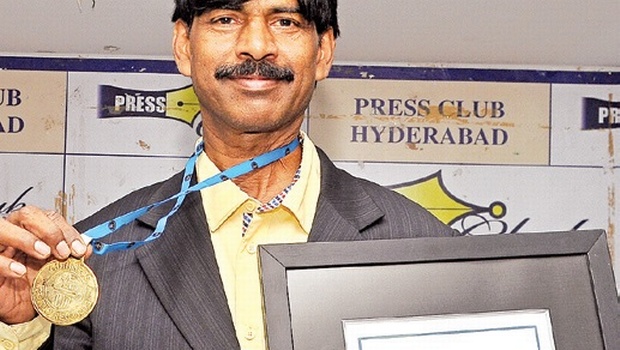 Hyderabad :
A 54-year-old throwing almost six punches per second seems like a story straight out of the Shaolin temples in China. But M Jayanth Reddy from Hyderabad proved to the world, on July 2, that he is a tough nut to crack when he broke the Guinness World Record for the most number of full contact punches in a minute using one hand – hitting 352 of them in the process.
His tryst with world records started in 2010 when he broke the world record for the maximum number of round kicks in a minute. He followed it up with a staggering 10 individual Guinness World Records in martial arts. A taekwondo practitioner since the age of 14, Jayanth won five gold medals at national championships from 1983-88. But fate had something else in store for him. After being unable to crack the Olympic riddle, he shifted his focus to teaching the martial art to youngsters. "I opened my academy in 1996-97 and since then I have taught more than five lakh students," the eighth Dan Black Belt holder said.
The inspiration to attempt scores of world records came from his family members.
An IPL inspired tournament is Jayanth's ultimate aim. "By November, 2017 we will start International Taekwondo Champions League which will have participants from India, Thailand and the USA," he asserted. In a chat with Express, Jayanth said that his latest world record was the toughest. "In taekwondo, kicks are used ninety per cent of the time. So to break the one handed punches world record was really tough."
His students haven't been left behind when it comes to smashing world records. "Konda Sahadev, who has been a student of mine for over two decades, has nine world records to his credit, while R Gajendra Kumar and Abdul Khalil have six each," said Jayanth. Nothing seems to be stopping the pentagenarian, who plans to break one more world record in near future.
The third-generation Hyderabadi resident has authored two books on healthy lifestyle. He expressed his concerns about India not performing well at the recently concluded Olympics. "I will identify talented people soon and start training them for the Tokyo Olympics," Jayanth said. He opined that the country is filled with talent.
source: http://www.newindianexpress.com / The New Indian Express / Home> Cities> Hyderabad / by Vishal Vivek / August 29th, 2016