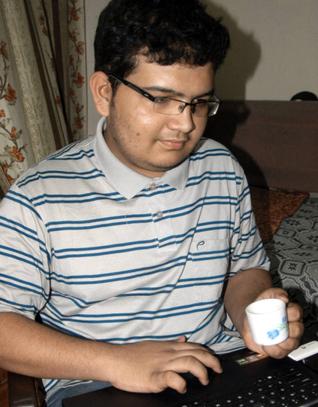 The amazingly talented seventeen-year-old Ballakur Vivek Kiran is a student of Kendriya Vidayalaya located at Hyderabad Central University (HCU). The young genius is involved in many projects and he is in the team of Indian Institute of Technology, Hyderabad (IITH) students, who have developed Dexter Assistant useful for doctors. He has taken care of android application of Dexter.
While studying 9th standard in 2012 Vivek developed herbal dictionary on Visual Basic Dot Net (VB.NET). Sanjay Enishetty, founder of IM GEEK, and Vineel Nalla, chief executive officer of NBOS Technologies, are his mentors and they are incubating his project Colorspace under Wave Labs, an angle investor forum, by extending financial assistance and providing work space at their office in the city.
Colorspace is a business module developed by Vivek, through which customers would be offered two photo prints free of cost by Kodak, an internationally reputed photo film production company.
Vivek is also part of a team that has developed an internal communication application for Cyberabad police in 2014.
An Accidental Detection and Rescue System is being developed by Udit Gangwal of SISCO, Manish and Devanjan – students from RV College, Bengaluru, along with Vivek.
"This works with geo-fencing and reverse geo-coding. We are using Kookoo, third party software.
The electronic embedded gadget that would be fixed in the vehicle will respond and send alert message to the nearest hospital from the accident spot based on the Google Maps. While I and Udit are working on software part both Manish and Devanjan working on hardware part," Mr. Vivek told The Hindu.
source: http://www.thehindu.com / The Hindu / Home> News> National / by R. Avadhani / Sangareddy – March 26th, 2015