Hyderabad :
The Padma Shri award has come as a late recognition to K Laxma Goud, the versatile and prolific artist who introduced the cultural tradition and rustic life in Telangana to the world through his canvas. His paintings has an indigenous identity representing the Telangana way of life. His powerful drawings and skillfully rendered etchings have influenced many of his contemporaries.
At the center of Laxma Goud's practice lies the magic of making, an intense, passionate communion with tools, techniques and materials. Laxma Goud's illustrious career has been marked with an all-encompassing diversity and high degree of craftsmanship both in medium and style. What made the prolific artist stand apart is his writhing, bleeding line. He has worked effortlessly in a wide array of mediums, such as painting, etching, pastels, gouache, sculpture (bronze, terracotta etc) and glass painting. He is known for his graceful, albeit highly powerful line drawings, watercolor works and etchings.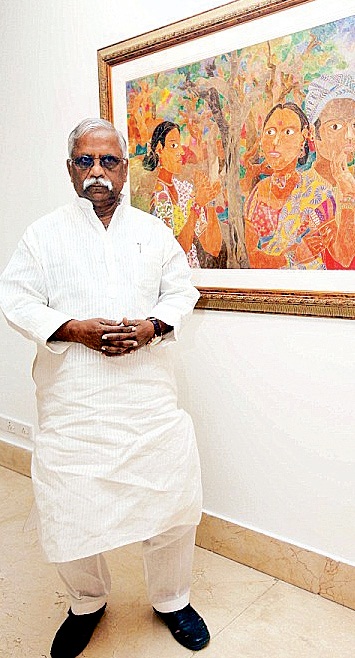 Laxma Goud drew the attention of art world for his technical expertise his startling, refreshing take on rural life. He grew as an artist during the time he spent at the art school of Maharaja Sayajirao University in Baroda learning traditional mural techniques under the mentorship of K G Subramanyan.
Born in Nizampur of TS in 1940, he completed his diploma in drawing & painting at the Government College of Art & Architecture, Hyderabad (1963). He then studied mural painting and printmaking (1963-65) at M S University, Baroda. Among his select solo exhibitions are 'Laxma Goud 40 years: A Retrospective' at Aicon Gallery, New York (2007); Sculptures – bronze and terracotta, Guild Art Gallery, Mumbai (2006); Aicon Gallery, New York (2003); and Grey Art Gallery, New York (2001-02). His significant group shows and participations are ' From the Vault', Aicon Gallery (2007); Back to the Future, Gallery Espace, New Delhi (2006); 'Indian Art Tomorrow', Philips Collection, Washington D.C. (1986); and São Paulo Biennale, Brazil (1977) among others. Notably, he was among the most represented artists in the Chester & Davida Herwitz Family Collection.
source: http://www.newindianexpress.com / The New Indian Express / Home> States> Telangana / by Express News Service / January 26th, 2016