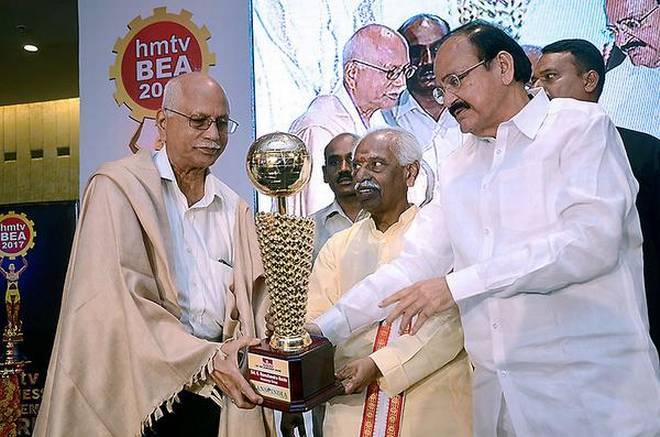 NTPC Ramagundam, KIMS Hospital get awards
Recognising the contribution of several business leaders and entrepreneurs, who made their mark in various sectors from the two Telugu States, the Hyderabad Media House Ltd. running HMTV news channel presented Business Excellence Awards- 2017 here on Saturday.
The awards instituted for the first time this year which would become an annual feature hereafter were given away by Union Ministers M. Venkaiah Naidu and Bandaru Dattatreya.
The event saw two distinguished businessmen – J. Rameshwar Rao, prominent builder and infrastructure developer and G. Ramachandra Naidu of Amararaja Group – being honoured with Lifetime Achievement Award.
A seven-member jury comprising Ramesh Loganathan, professor-IIIT, and representatives from CII, FTAPCCI, HYSEA, CREDAI and IT companies went through hundreds of nominations and chose the best nominees in 14 sectors. They also presented special jury awards.
Mr. Venkaiah Naidu said recognising the achievements of businessmen and industrialists and felicitating them was a noble deed as it would serve as an inspiration to several others. The industrialists and businessmen were wealth creators, but in our country they were often viewed with suspicion.
Prime Minister Narendra Modi extended a red carpet welcome to investors who run their business with good values. The government had no business to be in business but focus on providing basic amenities and infrastructure to people and the Vajpayee government had laid that foundation, he said.
The Indian economy was the only one that was growing at a healthy rate, thanks to the dynamism of Prime Minister Modi. Though some people criticised demonetisation, it brought money back into banks with an accountability.
Labour Minister Dattatreya said the government wanted to create a conducive atmosphere for growth of industry and labour for employment generation and poverty alleviation.
NTPC Ramagundam, KIMS hospital, got awards in separate categories. Vaman Rao, Chairman of Kapil Group that set up HMTV, and government officials were present.
source: http://www.thehindu.com / The Hindu / Home> News> Cities> Hyderabad / by Special Correspondent / Hyderabad – May 06th, 2017