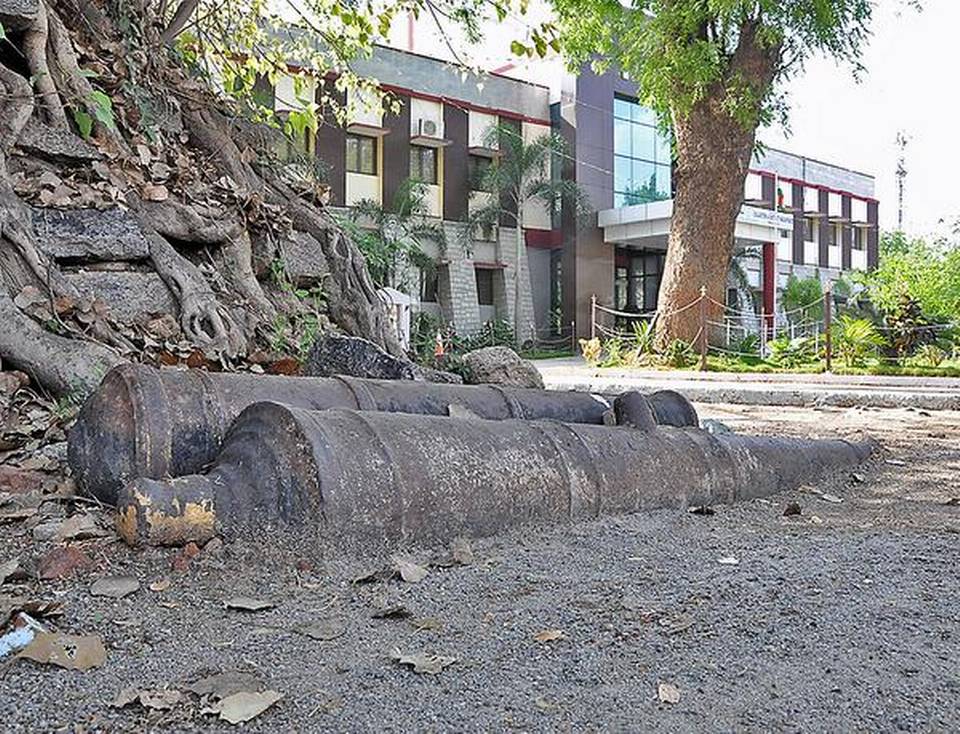 Cannons made over two centuries ago and iron foundries lie neglected
History, in all probability, will not repeat itself, especially in the case of Nirmal town that has seen glorious days over two centuries ago. Some of that magnificence, however, can be restored if the State government focuses on preserving whatever that is left of local forts, the iron foundries and the locally-made cannons. This district headquarter town, once a part of the united Adilabad district, is historically one of the most important places in Telangana, but remains neglected, according to experts.
The locally-made cannons, the ones that have remained after decades of plunder and vandalism of historical artefacts at the forts and whatever remains of the unique iron foundries where the cannons were manufactured, are crying for attention.
Two cannons are lying neglected within the premises of the District Collectorate in the town, while another lies under a tree in a locality close to Khazana Cheruvu. The third cannon at the Collectorate is well-preserved. There are a few that can still be found in the ruins of the local forts like Khilla Gutta, besides the one at Wadoor in Neredigonda mandal of Adilabad district, about 35 km from Nirmal town.
Among the well cared for cannons in the historic town are the ones that adorn the SP's camp office, Tahsildar office, the TNGO union office fire station and the police station. These are of varying sizes and calibre, the ones at the Collectorate and SP's camp office being the largest, and they were brought down from the fort ruins after the formation of the district in September 2016.
"The Nirmal town still has 22 locally-made cannons in the two foundries that were established by French engineers in the late 1700s," said S. Jaikishan, a member of Salarjung Museum Board, who is an expert on the history of cannons in Telangana, especially those in Nirmal town. He belongs to the Hyderabad-based NGO, Deccan Archaeological and Cultural Research Institute, which is involved in the conservation and preservation of Indian heritage. The expert, who has researched into the history of Nirmal with respect to its foundries and weapons factories, said more cannons lie buried under the earth at a location near Venkateshwara temple in the town, which need to be unearthed. He offered to provide details of each and every existing cannon of Nirmal to be displayed, provided that the government installs those on special pedestals.
source: http://www.thehindu.com / The Hindu / Home> News> Cities> Hyderabad / by S. Harpal Singh / Nirmal – April 16th, 2019