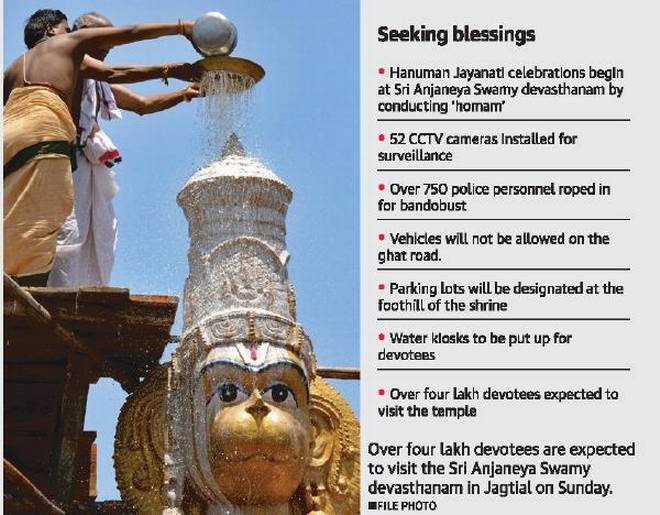 Devotees make a beeline to the temple on the occasion of Hanuman Jayanti
All roads leading to the historic Sri Anjaneya Swamy devasthanam in Kondagattu in Jagital turned saffron on Friday, with devotees making a beeline to the temple shrine ahead of Hanuman Jayanti on May 21.
Devotees started pouring in from various parts of the State as temple authorities launched the celebrations by conducting 'homam,' which would continue till Sunday. Predicting heavy rush on Sunday, many devotees were seen offering prayers at the temple shrine on Friday. Several Hanuman devotees wearing a mala were seen walking to the temple barefoot in the scorching heat as part of a ritual.
Temporary shelters
Devasthanam authorities, in coordination with the district administration and the police, made elaborate arrangements for the same. Temporary shelters were erected to protect the devotees from the sweltering heat. More than 750 police personnel were roped in for bandobust.
To avoid road mishaps, the police have decided to regulate traffic on the ghat road by restricting the entry of vehicles.
Parking spaces would be designated on the foothill of the shrine on the JNTU college road, Jagtial, and Karimnagar roads.
The police also installed 52 closed circuit television (CCTV) cameras to keep vigil.
The temple authorities expect four lakh pilgrims to visit the temple on Hanuman Jayanti.
source: http://www.thehindu.com / The Hindu / Home> News> States> Telangana / by K.M. Dayashankar / Jagtial – May 19th, 2017