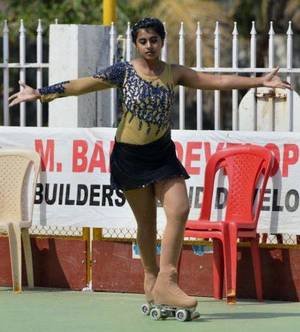 First girl in Telangana to compete at the global level
Kairavi Falguni Thakkar has made it to the World Roller Games to be held at Nanjing in China from August 25 to September 10. The first year BA student of St. Francis College, Begumpet, would be the first girl from Telangana to compete at such a global level and in the junior (under 19 years) solo dance event.
Currently in the Indian camp at the National College indoor stadium at Tiruchi in Tamil Nadu, she braved ups and downs before choosing to climb rather than sink in despair. "My lecturer-mother Falguni Thakkar is my backbone from whom I've inherited the ultimate attitude — never give up," she told The Hindu.
The 18-year-old is quick to point out the other pillars of support — siblings Anup Kumar Yama (an Arjuna awardee) and Amar Nag Yama. "I idolise my coaches, who have inspired me to scale new heights," says Kairavi.
Stepping into a rink for the first time when just eight years old, she has evolved into an artistic roller skater. Ask her why not tennis or badminton and Kairavi turns eloquent spokesperson for her passion.
"A skater should ideally have the strength of a tennis player, the balance of a tight rope walker, the endurance of a marathon runner, the precision of a badminton player, the agility of a gymnast, the cool nerve of a golfer, the grace and poise of a dancer," she reckons.
"It involves dance, jumps and spins as in ice skating, but on roller skates," she stresses. Yet in the not too distant past, the gritty lass was skating on thin ice. With a dash of daring, she jetted off to Portugal in March for training with Filipe Sereno, just before her 12th board exams!
Kairavi's cupboard is crammed with medals from district, State and national-level competitions in freestyle, figure and solo dance skating. Going by her confidence level, her first international medal could well come from China.
source: http://www.thehindu.com / The Hindu / Home> News> States> Telangana / by A. Jospeh Anthony / Hyderabad – June 18th, 2017