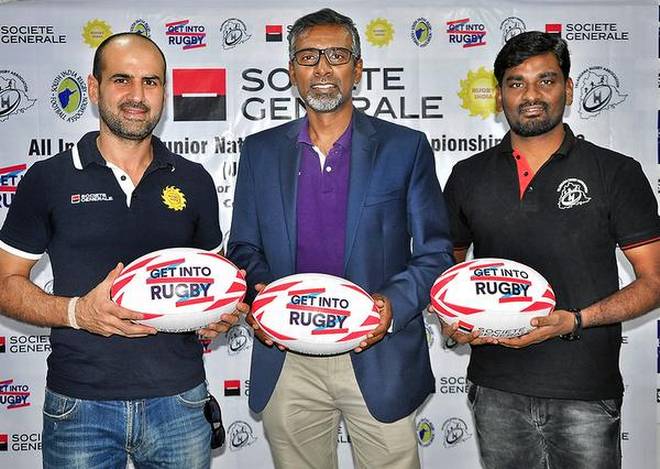 Sub-junior national championship to be held at Gymkhana Ground today
The sprawling Gymkhana Ground would come alive, thanks to an unfamiliar sporting action – rugby – for two days on January 12 and 13 with the conduct of the sub-junior national championship.
According to D. Ramu, general secretary of Telangana Rugby Association, this is part of the efforts to give a new direction to the sport across the State. "The major initiative is essentially aimed at luring as many youngsters as possible to the Olympic sport, which unfortunately is not too popular owing to certain misconceptions," Mr. Ramu explained.
"We are determined to popularise the sport in a big way and that is the reason we have ensured that 19 affiliated District Rugby Associations will initially scout for those interested in the sport in schools, and colleges and then plan the events accordingly," the TRA secretary pointed out.
"It's not that we are ambitious without any planning. The trial event held in the city a few weeks ago saw more than 200 players of different age groups play the sport. We are encouraged by this, and will chalk out a long-term promotional programme while conduct competitions at the same time," he said. "We definitely hope the sub-junior nationals in the city should ensure a perfect start to our ultimate goal of making rugby a popular sport in the State," Mr. Ramu said.
"The best part is that the School Games Federation of India Nationals (under-17 and 19 years) will also be held in the State this year which should also see the nationals and south zone for men and women here," he said.
For his part, Gerald Prabhu of South India Rugby Football Association felt that Telangana would soon become the hub of rugby for the entire south India given the kind of passion for the sport, if Telangana teams doing well in the trial event is any indication.
The flurry of rugby activity at Gymkhana Ground for the next two days featuring 18 States should give a fair idea where the sport might head in the days to come.
source: http://www.thehindu.com / The Hindu / Home> News> States> Telangana / by V.V. Subrahmanyam / Hyderabad – January 11th, 2018