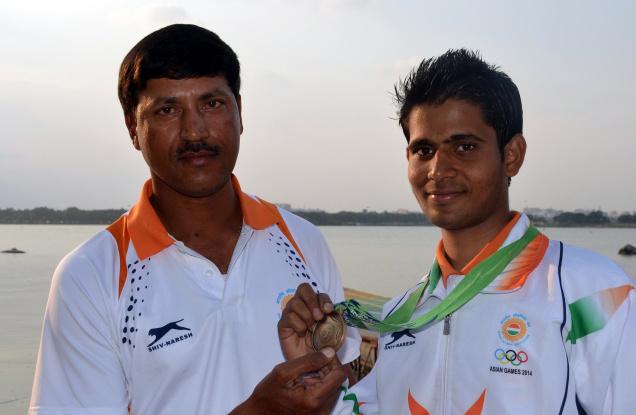 The 20-year-old Mohammad Ahmed has every reason to look back with a sense of pride after winning the bronze medal being part of the Indian coxed eights team in the Asian Games in his very first appearance.
"It was an unforgettable experience for me. To win a medal in my first Asiad is something which I never dreamt off. I am grateful to Ismail Sir (pointing to coach)," exclaims the young CPRF constable.
"We all enjoyed every moment of the race. It could have been great if only we had won a gold for which we were all confident," says Ahmed, who incidentally picked his third medal at the Asian level.

'My dream'
"My dream is to be part of the Indian rowing team for the 2016 Olympics. I am confident I will realise that goal too," says the smiling young rower, who loves watching soccer and also plays gully cricket whenever he finds time.
The youngest of all the Indian rowers in the Incheon Asian Games is born in a family which survives on his father Mohammad Ismail's meat shop in the by-lanes of Kavadiguda.
This enterprising young rower took to the sport during one of the routine trips with his father who supplies meat to the rowing contingent as part of their daily diet.
India's chief national coach and Dronacharya Ismail Baig was quick to spot the spark in the young boy and coaxed him to rowing.
The rest is history. Ahmed won gold in the Kolkata Senior Nationals in the coxed four event, bronze in the Hyderabad Nationals in the coxed eight team and later a silver in the Asian championship later on in Korea.
Later on, he has been groomed as the 'cox' in the Indian eights team which also has the 2010 Asiad gold medallist Bajrang Lal Thakkar. Technically, he is supposed to give direction to the team to be straight and keep track of the wind conditions and guide the rowers accordingly.
source: http://www.thehindu.com / The Hindu / Home> News> Cities> Hyderabad / by V.V.Subrahmanyam / Hyderabad – September 29th, 2014