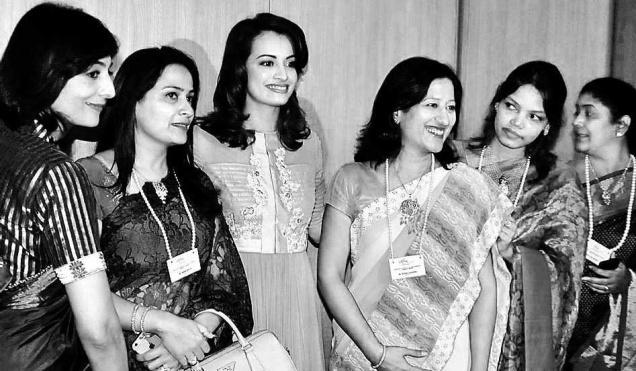 Former MissAsia-Pacific Dia Mirza says she did not have to put in more effort at the contest as her parents had already instilled in her wherewithal to win
When a teenaged Dia Mirza first stepped into the world of beauty pageants by participating in the 'Miss Asia-Pacific' contest, she did not enrol with an intention to win. It was only later that she realised that her parents had already prepared her for what she would go through in the event.
"I remember crying a lot. I had written a long letter to my mother on how she had taught me most of the things I was preparing for the programme in Mumbai. All the girls there had come with an ambition to win, but I did not go there to win, but it was very interesting," explained Ms. Mirza while interacting with members of the FICCI Ladies Organisation (FLO) here on Saturday afternoon.
Dwelling on her Indo-German background, Ms. Mirza mentioned how a 10-day part-time job at the age of 16 led to her first job. "Dr. Neeraj's Multi Media Studio, which had hired me to work at their kiosk at Walden for those 10 days, had later offered me a full-time job, because they liked my work," she said.
Ms. Mirza also mentioned how stressed she was during the 'Miss Asia-Pacific' competition, which was held in Manila, Philippines in 2000.
"I realised for the first time I was afraid, I could not let my country down," she stated, and added that apart from acting and producing movies, working with terminally-ill children helped her. "The thing about them is that they don't whine and ask 'why me'," she said.
source: http://www.thehindu.com / The Hindu / Home> News> National> Andhra Pradesh / by Yunus Y Lasania / Hyderabad – March 29th, 2015