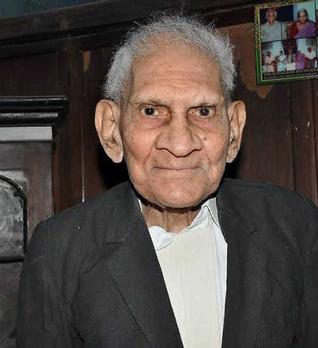 He has proved that age is no bar to do greater things if one has the will and dedication. He has even overcome physical debility and excelled at writing at an advanced age when most members of his peer group are suffering from various ailments. One of the most senior lawyers in the Nizamabad bar, Penumarthi Venkata Raj Ganesh, fondly called "peddayana" (elderly man) by his juniors and admirers, he took to writing at the age of 85 and published two works on Western and Indian philosophies. Though he attained the age of 90 this year, he intends to publish two more books, "Some Miscellaneous Concepts and Subjects" and "How India Attained the Name of Bharat." In the first book he discusses at length whether god, soul and rebirth exist. "The manuscripts are ready and I will publish them as soon as possible. I am neither a writer nor a poet. I have got down to this business only to tell something to society," says Mr. Raj Ganesh with all humility.
Stickler for ethics
Born in Machilipatnam to P.V. Narasimham and Jogamma on July 10, 1925, he completed his education and law in his home town. Seeing an advertisement in a newspaper he had come to Nizamabad to join the Collector's office as a second grade clerk in 1949. Within two years he left the job and started legal practice at the district court. In his long legal career he had seen so many ups and downs, but never lost heart. Strictly abiding by professional ethics he helped many poor people without charging them anything. He gave up legal practice after 55 years only due to hearing impairment. Though he was not interested in politics some friends and fellow lawyers elected him district president of the Janata Party after the Emergency. During the Emergency he was sent to jail for a few days for his outspokenness and critical comments against Indira Gandhi.
He also got elected as an independent member of the municipal council defeating then chairman and ex-MLA Kishan Das in the 1970s. The council honoured him with the "elderly man" award. Mr. Raj Ganesh is a keen observer of everything and is also an ardent reader of The Hindu for over 60 years now.
source: http://www.thehindu.com / The Hindu / Home> News> National> Telangana / by P. Ram Mohan / Nizamabad – April 06th, 2015