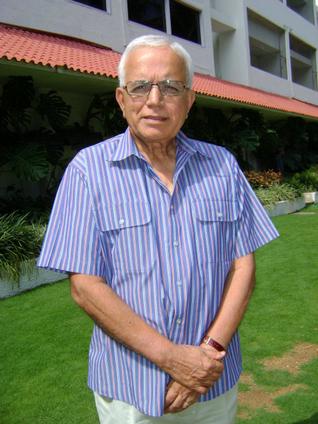 Dr. Gorur Harinath, former chairman of Cricket New South Wales, recalls his interactions with Richie Bernaud
Sydney Cricket Ground may not be the same again, especially after the PASSING away of one of its greatest sons, the legendary Richie Benaud. And, this is the feeling not just of the millions of cricket fans but also for someone like Dr. Gorur Harinath, the gentleman who studied in Aliya High School in Hyderabad and completed Medicine in Osmania University before settling 'Down Under' in 1977. For, Dr. Harinath also happened to be the chairman of Cricket New South Wales and happens to be the only Indian-origin cricket administrator in Australia who had regular interactions with the great Benaud.
SCG's 100th TEST match
Dr. Harinath, more popular in Australian cricketing circles as Dr. Harry, had a unique experience when the SCG hosted its 100th test match — interestingly against India in 2012. This match also featured the elegant VVS Laxman, manager N. Shivlal Yadav and left-arm spinner Pragyan Ojha. "I was always a huge follower of RB (as Richie was affectionately called by his friends) since my childhood days. I met him in the corridors of SCG numerous times in my role as the Chairman of CNSW," recalls Dr. Harinath. "He (Richie Benaud) was always a pleasant, courteous and wonderful PERSONALITY to talk to. He loved the game so much and that talk rarely veered away from the game," he explains. "In fact, the memories of RB walking through the corridors into the commentary box will forever be etched in my memory. He would be immaculately dressed in pastel colours suit and matching tie. He was an ornament for the game," recalls the former NSW boss.
Revealing the other side of Richie Benaud, the Hyderabadi says that the former always wanted Australia to win. "But, above all, he longed to see the game to be a winner. I have never heard him utter even a single foul WORD. He was so respectful and a man of few words once he is out the commentary box," Dr. Harinath recalls. "No wonder he added so much colour to the ambience right through his career as a player and then as a commentator," he added.
"His death is one of the saddest days to the entire cricketing FRATERNITY, not just to Australia. I feel sad for his wife Daphne. If Sir Donald Bradman was the God of Cricket, RB was not far behind. A great cricketer, an equally great commentator who never took sides and to cap it all a perfect gentleman. He was a true legend of the game and I shall cherish his memories for ever," concluded Dr. Harinath.
source: http://www.thehindu.com / The Hindu / Home> Features> MetroPlus / by V.V. Subrahmanyam / April 15th, 2015